"Adobong Manok" pronounced in Tagalog, is a tasty, popular and easy to prepare Filipino dish that has been at the forefront of my family household for my whole life and this will not stop. Anyone who knows about Filipino cooking will know this dish as the unofficial national dish of the Philippines.
The cooking process consists of marinating then braising meat, seafood or vegetables in a sauce of vinegar, soy sauce, garlic, bay leaves, and black peppercorns. It is usually served with rice and maybe garnished with chopped spring onions. The combination of vinegar and salt (or soy sauce) for food preparation is indigenous to the Philippines as it keeps foods fresh longer whilst in tropical climates. This mixed with the Spanish roots of the Philippines has produced this characteristically salty, sour and often sweet taste.
The most common main ingredient for an "Adobo" dish is using Chicken, but there are many variations substituting Chicken for other ingredients such as pork, squid or aubergine. My favourite variation is called "Humba" which resides from Leyte, where my mother originated. This comprises of the ingredients of a typical "Adobo" sauce but embodies very tender and slow-cooked pork belly, fermented black beans and muscovado sugar for a rich sweetness.
I cannot remember the first time I devoured this dish, but I know it has been on the menu at least once a week. I can remember often returning home from school, entering the house and breathing in deeply and soaking up the distinctive aroma of Chicken Adobo.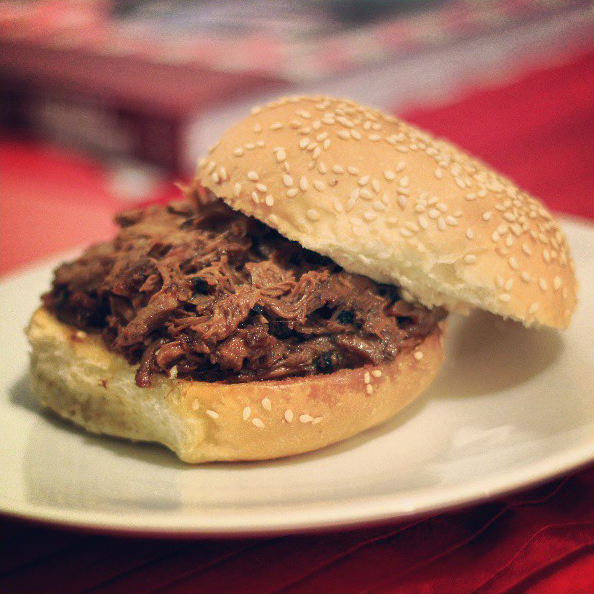 Thanks to my mother, I have known how to cook this for a very long time now and have tried to conjure up my own variation, but the original always seems the best. I have even tried westernising the dish and made a pulled chicken adobo burger and was definitely tasty.
Here is an awesome variation I have found online:
www.seonkyounglongest.com/filipino-chicken-adobo/
Enjoy…